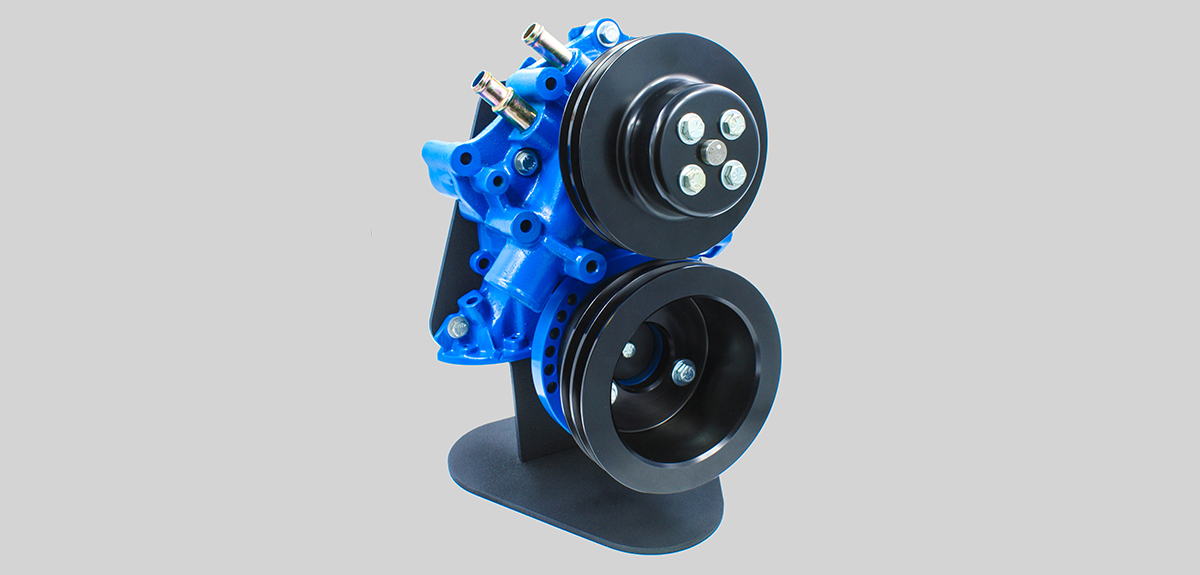 New billet aluminum crankshaft and water pump pulleys from Vintage Air provide a smooth running, high strength double groove pulley option for 289 and 302 Fords.
San Antonio, Texas (January, 2018) – Vintage Air, the leading manufacturer of complete performance air conditioning systems for classics, hot rods, muscle cars and trucks, has announced the release of two new billet aluminum pulleys for small block Ford engines. These new pulleys provide a simple and easy-to-install double groove pulley system that is both stronger and straighter than hard-to-find factory steel or weak overseas made reproduction pulleys.
Small block Ford engines have long held a substantial place in automotive history. The 289 can easily be viewed as one of Ford's most successful engines thanks to an incredible history with variants of it being used at LeMans, Indianapolis, Sebring, Daytona and dozens of other racing venues around the world. With pressure from increasing displacements at Chevrolet, Pontiac, and Chrysler pushed Ford toward adding more stroke to the tried-and-proven 289 to create the 302. However, with increased demand comes an increase for replacement parts and thanks to Vintage Air, the hard to find double groove pulleys for the 289 and 302 Ford engines are no longer a problem.
The new pulleys are machined from the same high strength billet aluminum as Vintage Air's popular Front Runner unit and are finished in an anodized hard coat that give them an OEM look. This makes the new pulleys not only stronger than the OEM pulleys but also makes them run very true with near zero runout. The new pullies will increase belt life and reduce vibration on accessories There will be two pulleys available for the Ford 289 and 302 engines; a crankshaft pulley (Part Number 730016) which is drilled for three bolts and the water pump pulley (Part Number 730014).
Vintage Air pulleys are made in the USA, come with all parts necessary for a complete installation and are backed by a three-year warranty.  For more information on the Vintage Air small block Ford pulleys or any other product, visit www.vintageair.com or call (800) 862-6658.
---
ABOUT VINTAGE AIR
Vintage Air offers the most comprehensive line of high performance air conditioning components designed for street rods, sport trucks and performance cars. Owned and operated by experienced street rodders who have been involved in the sport for forty years, every Vintage Air product incorporates the very latest technology available and offers you the greatest efficiency and reliability available. Vintage Air's goal is to help you cool your specialty vehicle in a more informed way and to supply you what you really need to get the job done right!