I spent the weekend working a show, the Good Guys Del Mar Nationals, for my client Hotchkis Performance. The show was HUGE. Over one thousand cars, several thousand spectators, a full field of enthusiasts thrashing their muscle cars in the Auto Cross, and dozens of vendors peddling their wares.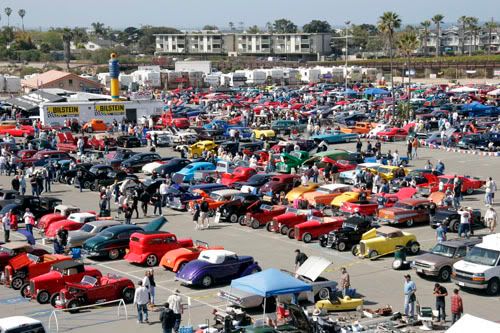 After speaking with the organizers of the show, several manufacturers with booths at the the event, spectators and members of the media covering the festivities, I was able to draw a few conclusions. My totally unscientific gut reaction to the Del Mar Show, which is considered the first major car show of the season, is thus:
– People are ready to enjoy life again. The Saturday crowd was HUGE. People walking the show, dragging their little kids behind them, smiles beaming and cars rumbling. Every show participant I expressed a said a variant of the same sentiment: "I'm tired of hiding in my house waiting for the recession to end, it's time to enjoy my life, my hobby, and spend a little money doing what I love."
– Business is getting back to normal. Most of the vendors I spoke to from the automotive aftermarket said that after a very lean Winter (particularly November – January) things started picking up again February, and March was actually strong. One manufacturer I spoke to actually told me his business was UP in March compared to the same month last year.
Why? I'm not an economist or a psychologist, but my instincts tell me that:
a) Tax refunds are making an impact
b) People are tired of living in fear and need some relief. For car guys that means working on their car or going to events
c) Those who have been living frugally for the past two years need to splurge on something, and in the case of gearheads that's car-related spending
d) Baby boomers have decided if they're going to put money into an investment, at least you can enjoy a classic car. A mutual fund? Not so much.
e) This whole crisis has bottomed out, and is starting the slow climb back to normal.
– Media has changed. Forever. This has been happening for a while, but the change is now irreversible. Members of the "old media" were out in force at the event, from editors and publishers to ad sales people and more. Many of these folks are my friends. In fact, I used to be one of them. While editors were doing interviews and photographers were shooting feature stories, their messages were universal: the big media companies have cut staff to a bare minimum, advertising revenue is way down, and things are pretty lean.
On the flip side, social media sites were represented in force. I saw dozens of hats and t-shirts emblazoned with the URLs of different popular automotive forums, moderators and admins I spoke with were extremely upbeat and positive, and at the racetrack there were clear rivalries and affiliations based on site loyalties. There were hundreds of people shooting the event with high-end digital still cameras and high-def video cameras, and you know all that content is going to land on the web. People have become their own publishers, and while its empowering for the general public it poses opportunities for the clever marketing maven and huge risks for those who ignore it.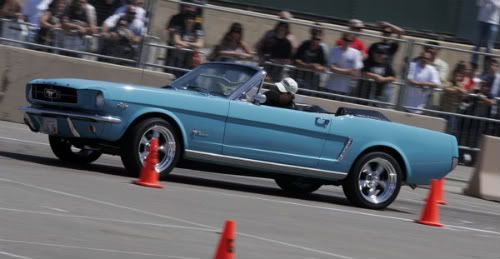 So what does that mean for PR & Marketing? NOW IS THE TIME TO ACT DECISIVELY. Don't get back to the wasteful ways of old spending huge sums of money on advertising. Instead build a lean marketing program that speaks directly to the consumer. Blend traditional media relations to generate ink about how well your company is doing in the face of economic trouble, utilize a social media marketing campaign to speak directly with the most active influencers in your target demographic, and only buy ads in the most effective media outlets to reinforce the messages of the PR and Social Media campaigns.
Act now and capture the hearts and minds of consumers while your competitor is still hiding under his bed waiting for things to blow over, and you'll not only win your old customers back, you'll take his too. And that's the point of a truly excellent campaign, to increase your base and make money.