SEMA may be cancelled, but thousands of customers are waiting to buy your products, and we have a plan.
What: We have already developed turn-key launch programs for new products, car builds and brands. Reach more people for less money than a traditional in-person program, targeted to your specific consumer, market segment and distribution model.
How: Through a turn-key marketing package that targets thousands of industry contacts and millions of consumers targeted by interest, utilizing a seamlessly integrated package of virtual programming, live video, social media content, PR and targeted digital marketing.
Why: Wednesday's news that the 2020 Specialty Equipment Market Association (SEMA) Show was the latest event to fall victim to the coronavirus pandemic hit the aftermarket automotive industry like a tornado in a trailer park. Having a standalone digital launch managed by the KM team is faster, more targeted and has more trackable defined return on investment than even the best in-person program.
How: Using car builds, product spotlights, produced and live content, carefully orchestrated media coverage, engaged influencers and the 1.1M-strong Kahn Media Network of auto enthusiast social media channels for maximum exposure and ROI.
Who: Kahn Media has been helping our clients get the most from their SEMA Show presences for more than a decade, including introducing an increasing number of digital solutions for clients to amplify their presence outside of those physically in attendance at the event. Now, we're ready to help you navigate the unknown of a digital trade show presence with a custom-tailored service package designed to get your message to the right audience – be it business-to-business or business-to-consumer.
---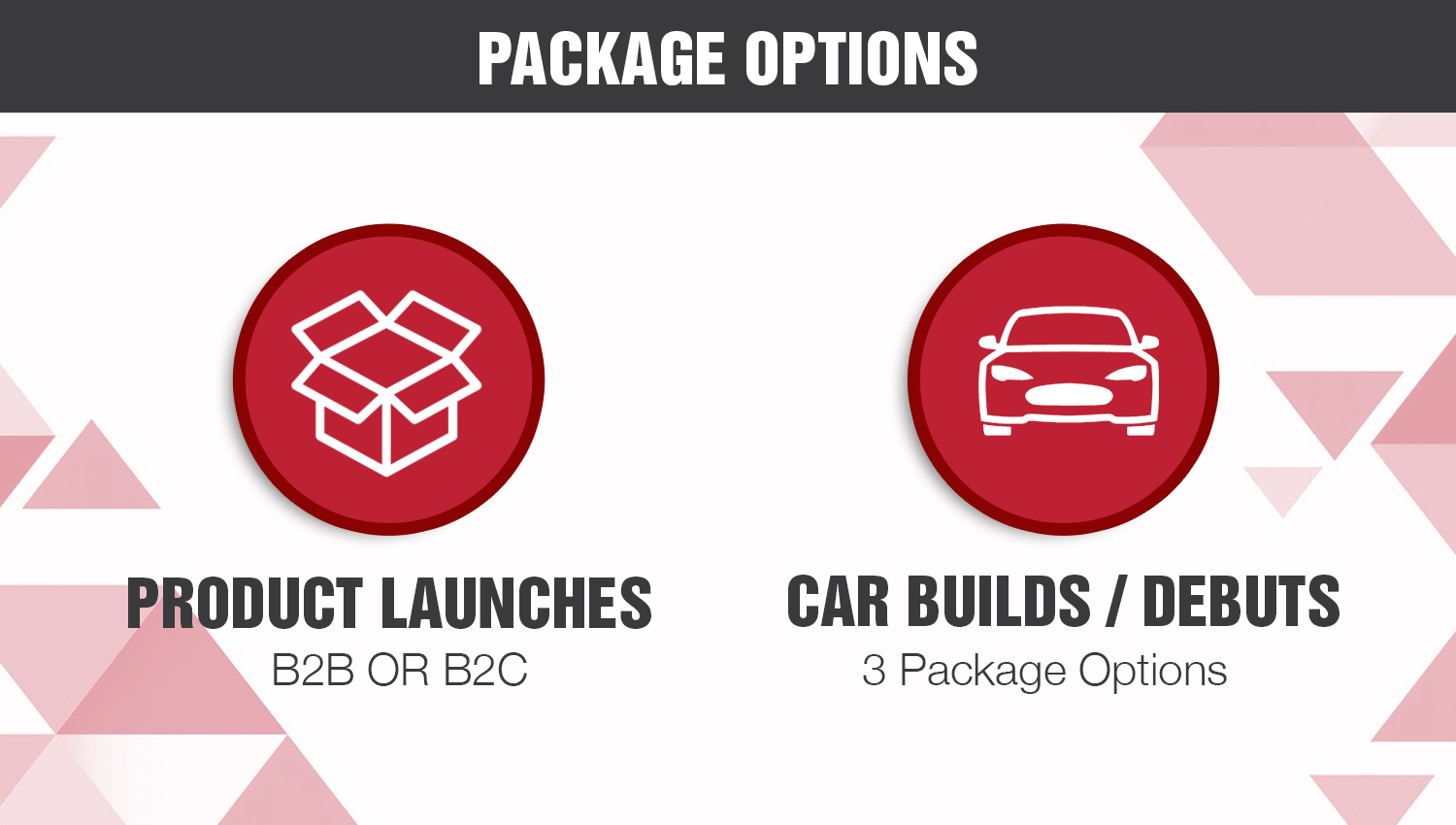 Packages Available
Product Launches

B2B – Trade Only (PR, Targeted Digital Marketing, Content Creation)
B2C – Trade & Consumer (PR, Targeted Digital Marketing, Content Creation, Photo and Video, Social Content and Influencer Endorsement)

Direct to Consumer (Optional Packages for Creating a Digital Sales Funnel)

Car Builds / Debuts

Package A: Photos, Press Kit Creation, PR Launch and Pitching
Package B: All above plus turn-key video, influencer engagement and social content
Package C: All listed above plus live streaming social media unveil on the KM Network of 1M follower enthusiast Instagram Pages and on your channels.
---
Digital Trade Show Services
Live or streaming product and vehicle unveils (remote from your business/shop or in-studio at Kahn Media)
Interviews with leading U.S. and international media
Podcast guest appearances
Social media influencer engagement and partnerships
B2C/D2C and B2B digital marketing campaigns (search, display, remarketing and social media) delivered to your specific demographic with highly-targeted ad copy and content
Video production
Product/vehicle photography
---
About Kahn Media
We are the only integrated marketing agency in the aftermarket industry to combine traditional public and media relations services with an award-winning in-house creative team (photographers, videographers and graphic designers), an in-house digital marketing team that has delivered proven results to clients large and small, direct-to-consumer sales experts and social media and influencer marketing professionals along with a network of automotive enthusiast Instagram channels that reach over 11 million consumers.
Our ROI-driven, turnkey programs are faster and more highly targeted than a trade show booth or press conference and include in-depth analysis that measures reach, engagement, traffic driven to your site and sales numbers (when utilizing our digital marketing services). We will design a custom program with defined KPIs and ROI that using custom vehicle build features, product spotlights, celebrity endorsements, a combination of professionally-produced and live content, influencer engagement and syndication through the Kahn Media Network for maximum exposure and return on investment.
---
Stay Ahead of the Curve
Contact us today to receive case studies, examples of our work and discuss what a custom digital product or vehicle debut for your company looks like and find out how we can deliver you massive ROI for a fraction of the cost of your original trade show budget.
---
More Resources:
Interested in learning more about Virtual Trade Conferences?
Check out our in-depth story here.

---
Direct to Consumer Sales Can Save Your Business

If your brand isn't selling direct to consumer now, it should be. Our excusive market study shows that brands that pivoted to sell D2C during the pandemic had significantly better top line sales even during the current recession than those that don't. Learn more about how to do it here.
---
How the "Digital Sales Funnel" Keeps Revenue Soaring
The "digital sales funnel" is more important than ever, especially now that SEMA is cancelled. Organic social media, targeted digital advertising, PR and media coverage create awareness of your products, pull consumers through the sales funnel and drive B2B distribution. Read more here.
---
Why Aftermarket Consumers are Still Spending
If you want to learn even more on where consumers are spending their money (particularly in the aftermarket), how they're shopping, and why this is the perfect time to pivot from in-person trade shows to a digital strategy, check out our white paper.