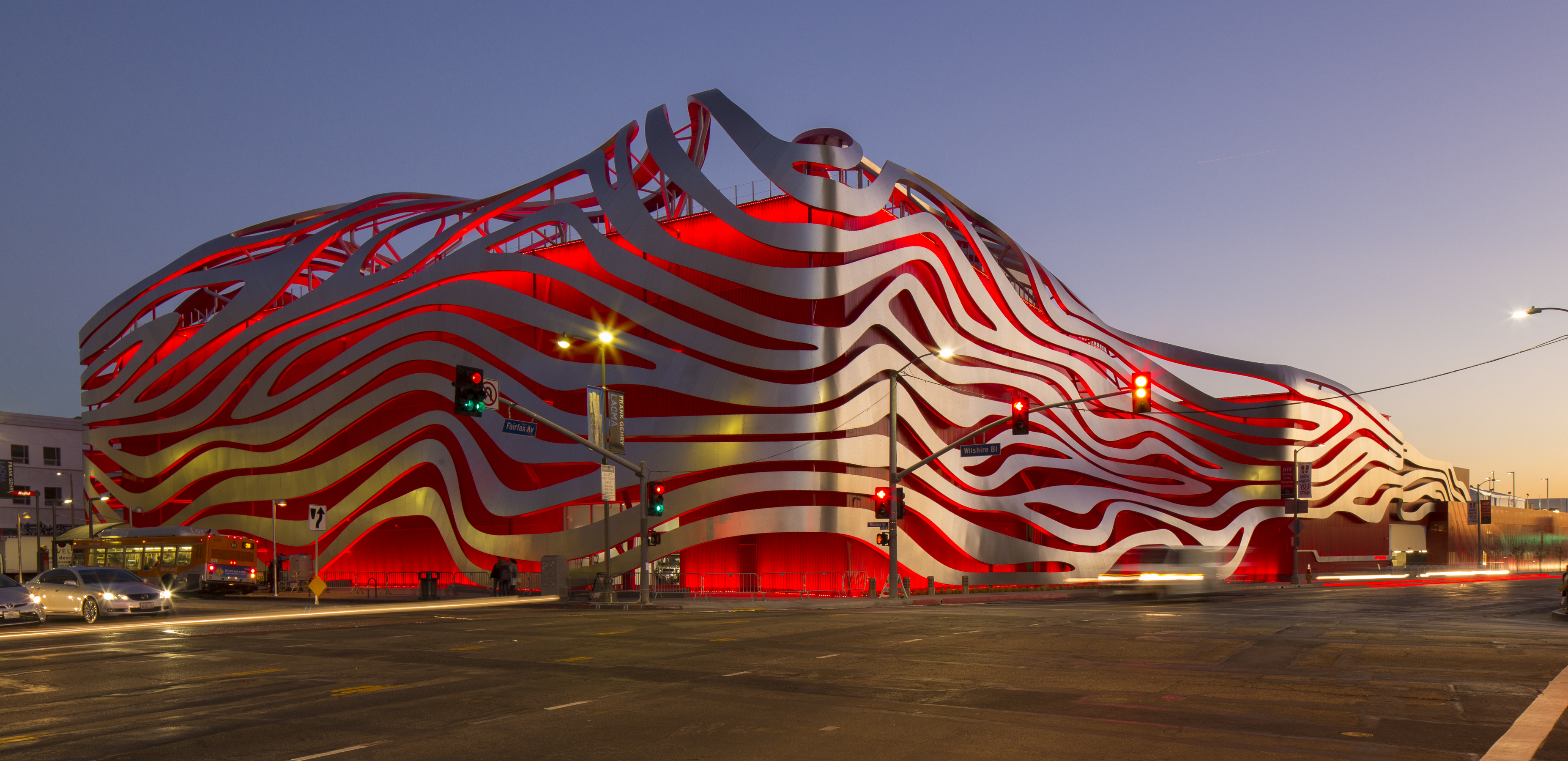 ---
The Petersen Automotive Museum and Kohn Pedersen Fox have been honored by the Chicago Athenaeum Museum of Architecture and Design with its American Architecture Award for 2017.
Los Angeles (April 12, 2017) – Just over a year after its grand re-opening after a $90M remodel that changed the skyline of Los Angeles' "Museum Row," The Petersen Automotive Museum has been honored by the Chicago Athenaeum Museum of Architecture and Design as one of the most significant building projects in America owing to its radical exterior design by architecture firm Kohn Pedersen Fox. The American Architecture Award, which is presented in conjunction with The European Center for Architecture Art Design and Urban Studies and Metropolitan Arts Press, has been given out every year since 1994, and will be presented at a gala ceremony held at the Orlando Museum of Art.
According to the Athenaeum, The American Architecture Award was created "to honor the best and most significant new buildings, landscape and planning projects which were designed and/or built in the United States or abroad by the most important American architects and planners practicing nationally and internationally."
The Petersen's renovation was unique among museum projects in that it was a retrofit, rather than a complete knock down or new building. Gene Kohn and Trent Tesch of Kohn Pedersen Fox worked together to take what had been a gray concrete box originally designed as a mid-century department store and transform it into a striking organic shape, serving as a visual anchor of the Miracle Mile neighborhood utilizing a façade of flowing stainless steel ribbons over a corrugated red shell.
"To even be considered for such an award is an honor," said Terry Karges, executive director of the Petersen Automotive Museum. "Coincidentally, this award was created in 1994 – the same year Robert E. Petersen founded our museum in a repurposed department store. His vision was a powerful one, but it was not until our board of directors – lead by Peter Mullin, David Sydorick and Bruce Meyer – tapped Gene Kohn and his team that we were able to fully realize Petersen's dream to build a museum in the heart of Los Angeles that serves as an intersection of cars and art, engineering and design. We now have a building as beautiful and thought provoking as the collection displayed inside. We are grateful for this honor, it would not have been possible without KPF, our local architects House & Robertson, and the craftsmen who built it at Zahner and MATT Construction."
Previous projects to receive the American Architecture Award include the National September 11th Memorial Museum, the Pasadena City College Center for the Arts, and the Academy Museum of Motion Pictures which is being built across the street from the Petersen.
For more information about the event or exhibit, visit www.Petersen.org or call 323/964-CARS. For more information on the American Architecture Awards and the Chicago Athenaeum Museum of Architecture and Design please visit www.chi-athenaeum.org/aaa. For more information on Kohn Pedersen Fox please visit www.kpf.com.
---
ABOUT THE PETERSEN
The Petersen Automotive Museum Foundation is a non-profit 501(c)(3) charity. The Museum is located at 6060 Wilshire Boulevard (at Fairfax) in Los Angeles, California, 90036. Admission prices are $15 for general admission adults, $12 for seniors and students with ID, $7 for children ages 3 to 12. Active military with ID, personal care attendants and children under three are admitted free. Museum hours are 10am to 6pm. For general information, call 323/930-CARS or visit www.Petersen.org.