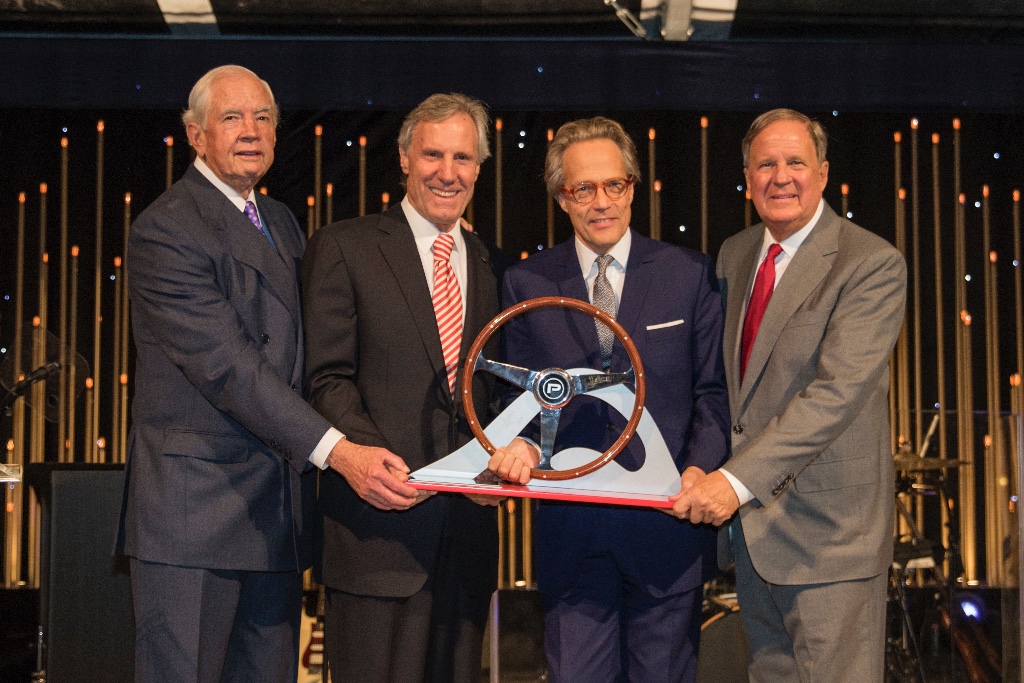 ---
The event held on October 14th was emceed by The Late Late Show host James Corden and sponsored by Porsche
Los Angeles, Calif. (October 18, 2017) – Recognizing his many contributions to the international motoring community, the Petersen Automotive Museum presented British aristocrat Charles Gordon-Lennox, the Duke of Richmond, Lennox, Aubigny and Gordon the prestigious "Automotive Icon Award" at its 23rd annual gala. Held October 14th, the event was emceed by The Late Late Show host James Corden and sponsored by Porsche.
In bestowing the award, the Petersen cited the Duke's many contributions, including the establishment of The Goodwood Festival of Speed, Goodwood Revival and Goodwood Member's Meeting. The events, which take place each summer on the grounds of the Duke's West Sussex estate, have become among the most highly regarded and glamorous celebrations in the international motorsports community.
"I'm honored to have been recognized by the Petersen given its position as one of the world's most prestigious and influential organizations dedicated to the rich history of the automobile," said the Duke. "At Goodwood we are passionate about motorsport in all its various forms and like this museum, we consider it a privilege to welcome guests from all around the world to enjoy the unique experience of our events – the Goodwood Festival of Speed and Goodwood Revival."
In addition to the awards presentation, the evening included live entertainment and gourmet Italian cuisine catered by the Drago brothers. During the event, gala guests enjoyed an appearance by British comedian and talk show host James Corden. The event concluded with a charity auction, which featured bidding on rare experiences and personalized tours of prized car collections.
This year's gala was sponsored by Porsche in anticipation of its upcoming exhibit, "The Porsche Effect," which will open in February. The exhibit will highlight a selection of sports and race cars, along with renderings, engines, billboards and more. Expected to be the most comprehensive display of Porsches outside of Stuttgart, the exhibit will be preceded by a large celebratory event hosted by Porsche and the Petersen.
All the proceeds from the annual gala support the Petersen's ongoing mission to inform, inspire, and educate the public about the art and engineering of the automobile. The Petersen Automotive Museum Foundation also provides funding for the museum's free school bus program for Title 1 schools in Southern California. To learn more about the foundation and its programs, please visit, www.Petersen.org.
---
ABOUT THE PETERSEN
The Petersen Automotive Museum Foundation is a non-profit 501(c)(3) charity. The Museum is located at 6060 Wilshire Boulevard (at Fairfax) in Los Angeles, California, 90036. Admission prices are $16 for general admission adults, $13 for seniors and students with ID, $8 for children ages 3 to 12. Active military with ID, personal care attendants and children under three are admitted free. Museum hours are 10 a.m. to 6 p.m. For general information, call 323-930-CARS or visit www.petersen.org.