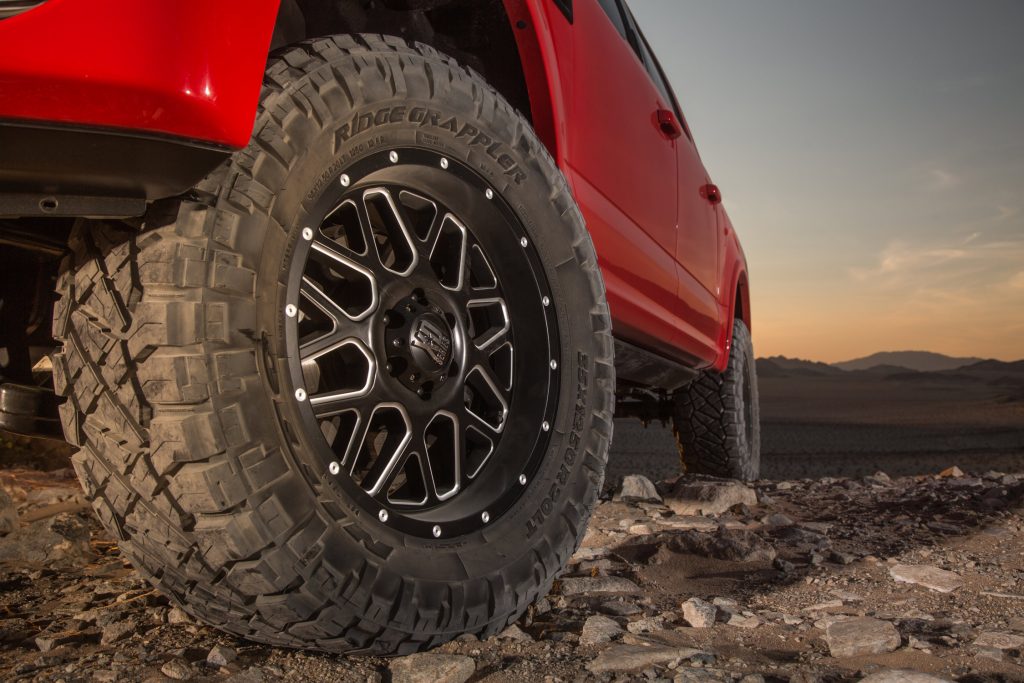 Fast Facts:
Brand new Nitto Grappler light truck offering with an unparalleled balance of off-road and on-road capabilities.
Dual sidewall designs allow customers to customize the look of their vehicle.
Will be available in 30 popular sizes for a wide range of vehicle applications.
Cypress, Calif. (June 7, 2016) – Nitto Tire U.S.A. Inc., a leading manufacturer of off-road and street performance tires, has announced the release of the latest addition to its Grappler line of light truck tires, the Ridge Grappler.
Situated in between the Nitto Trail Grappler mud terrain and the Nitto Terra Grappler G2 all terrain, the Ridge Grappler offers drivers the best of both worlds. The Ridge Grappler makes use of a host of innovative technologies that set it in a class all to itself and make it the perfect balance between an off-road capable tire and a comfortable, quiet all-terrain tire
Setting the Ridge Grappler apart is its dynamic hybrid tread pattern. To minimize the highway hum inherent in most aggressive tread designs, Nitto gave the Ridge Grappler noise-reducing variable-pitch tread blocks. This design was created through the use of advanced sound equipment with the goal of creating a pattern that provides a quiet and smooth highway ride.
When taken off-road, the alternating shoulder grooves help to clear mud quickly while the Lateral Z grooves give more biting edges for traction. Reinforced block foundations also add rigidity to reduce tread flex and the integrated stone ejectors work to reduce stone drilling and help protect the bottom of the groove.
The Ridge Grappler also comes available in an F load range rating in select sizes, which allows for higher carrying capacity at a higher inflation pressure compared to an E load range size.
"The Ridge Grappler offers our truck customers the perfect balance between aggressive tread design, capable off-road performance, and day-to-day ride comfort," said Alan Ngo, Senior Staff Engineer of Nitto Tire U.S.A. Inc. "The Ridge Grappler is packed with exciting new technology that makes it one of the most capable and livable Grappler tires we've ever offered."
The Ridge Grappler will be available in 30 popular sizes including fitments for Jeep Wranglers as well as 3/4 and 1-ton trucks and features two unique sidewall designs that let you chose what look works best for your vehicle. The product will be available starting in July 2016 with select sizes, and many more to follow throughout the year.
To learn more about the new Nitto Ridge Grappler or the rest of the Nitto Tire line, please visit www.nittotire.com. Join Nitto Tire on Facebook at www.facebook.com/NittoTire and on Twitter at @NittoTire.
#NittoTire #RidgeGrappler
Full size listing:
| Available July, 2016 | Coming Soon | |
| --- | --- | --- |
| LT285/70R17 C 116/113Q | LT265/70R17 E 121/118Q | LT275/65R20 E 126/123Q |
| LT285/70R17 E 121/118Q | LT285/75R17 C 117/114Q | LT295/55R20 E 123/120Q |
| 37×12.50R17LT D 124Q | LT285/75R17 E 121/118Q | LT295/60R20 E 126/123Q |
| 37×12.50R20LT E 126Q | LT295/70R17 E 121/118Q | LT295/65R20 E 129/126Q |
| 35×12.50R22LT F 121Q | LT305/70R17 E 121/118Q | LT305/55R20 F 125/122Q |
| | 33×12.50R17LT E 120Q | 33×12.50R20LT F 119Q |
| | 33×12.50R17LT E 120Q | 35×11.50R20LT E 124Q |
| | LT275/65R18 E 123/120Q | 35×12.50R20LT F 125Q |
| | LT275/70R18 E 125/122Q | 35×13.50R20LT F 126Q |
| | LT285/65R18 E 125/122Q | 33×12.50R22LT F 114Q |
| | LT295/70R18 E 129/126Q | 37×12.50R22LT F 127Q |
| | 33×12.50R18LT F 122Q | |
| | 35×12.50R18LT F 128Q | |
| | 37×12.50R18LT E 128Q | |