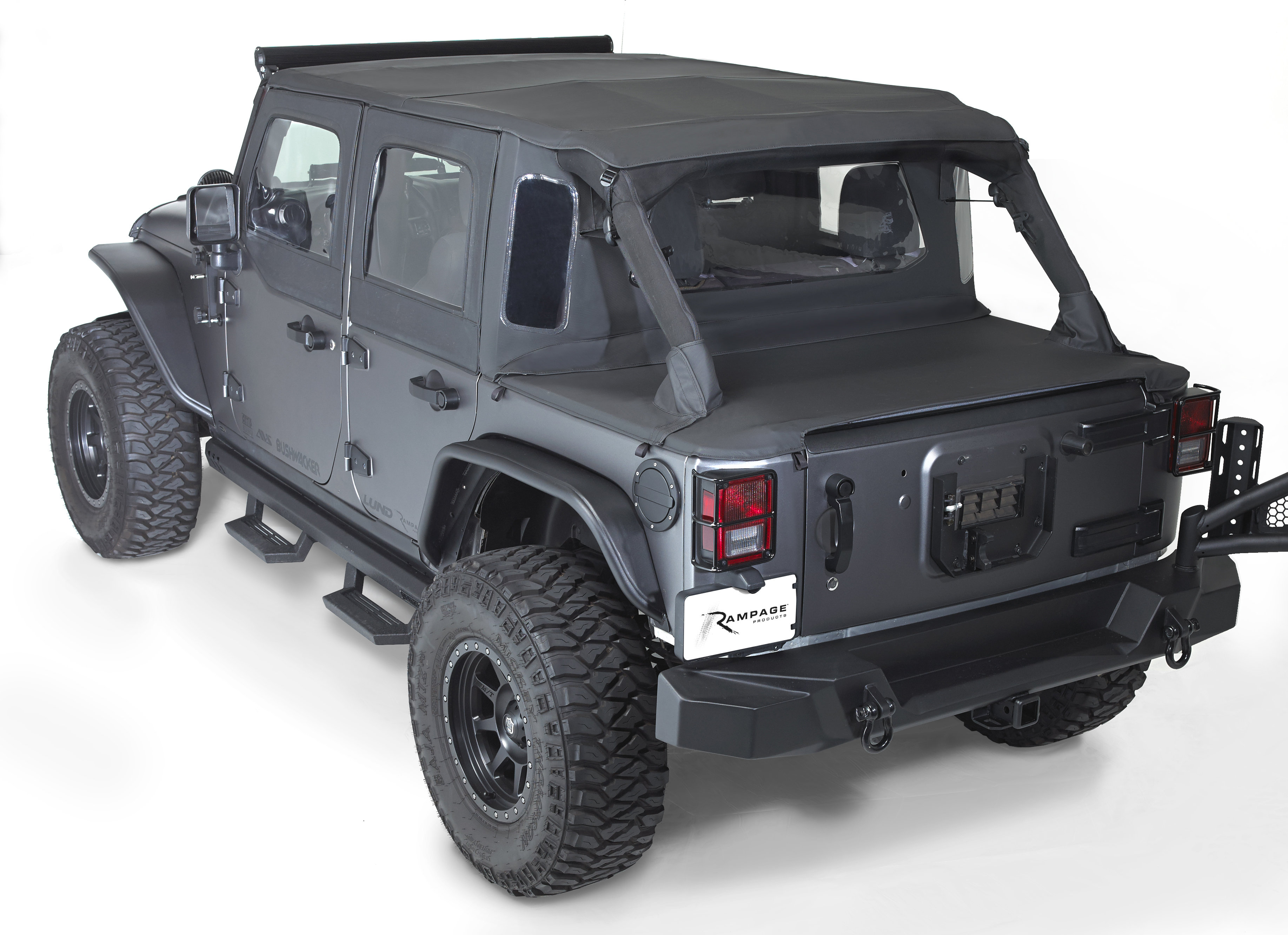 Buford, GA. (October, 2017) – Rampage Products, the leading supplier of premium parts and accessories in the specialty Jeep marketplace, has released a new TrailView Tonneau Top for the 2007-2017 Jeep Wrangler. This top is ideal for JK owners who want the look of a truck, without having to wait for the new upcoming JT platform.
---
Rampage Products created its new TrailView Tonneau Top in response to enthusiasts demanding options for turning their modern Wrangler platform into a pickup.   Interest—which has piqued in anticipation of the debut of the 2018 Jeep Wrangler Truck—has been longstanding, thanks to Jeep's history of manufacturing truck-based vehicles like the Willys-Overland Truck, FC Series, Gladiator (J-series), Commando, CJ-8 Scrambler and Comanche.
The TrailView Tonneau top combines the easy 'one-handed from within the Jeep' fold-back sunroof feature of a TrailView Soft Top with the gear-protecting coverage of a durable, snug-fit tonneau cover that gives the 2007-2017 Wrangler JK (PN #990235) and JKU (PN #990135) a truck appearance. Constructed from premium 30 oz. black diamond sailcloth, the rear rain-tight curtain includes tinted side windows for enhanced visibility. The rear window can be zipped open, delivering even more of the open-air experience Jeep lovers want. The tonneau cover zips into the rear curtain and can be easily removed. The three components can be used individually or in conjunction with each other.
The Rampage Products TrailView Tonneau Top comes with all necessary parts, hardware and an industry-leading 3-year warranty. For more information on the TrailView Tonneau Top or any other Rampage Products, visit www.rampageproducts.com, call 1-800-241-7219 or email info@lundinter.com.
---
ABOUT RAMPAGE PRODUCTS
Built for the trail, ready for the road, Rampage Products is the leader of premium parts and accessories in the specialty Jeep market. A skilled team of Jeep enthusiasts invents, designs, and uses the product innovations you see on roads and trails every day. After the pavement ends, there's a two-track or a mountain trail that's still out there to be taken on and conquered…adventure fearlessly with Rampage Products.
---