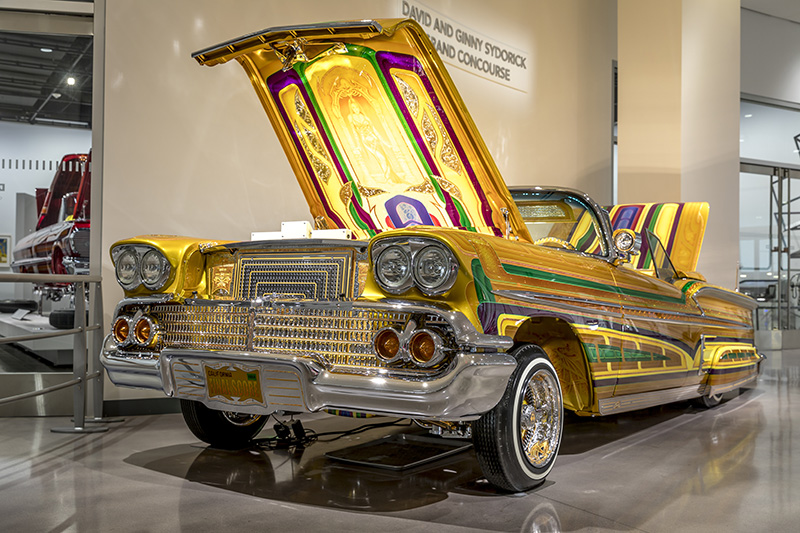 ---
Following the success of "The High Art of Riding Low: Ranflas, Corazón e Inspiración," the museum has added four new lowriders to prolong the excitement surrounding the exhibit through the new year.
Los Angeles (December 11th, 2017) – The Petersen Automotive Museum is featuring a new collection of lowriders to celebrate the holiday season and extend the record-setting popularity of "The High Art of Riding Low: Ranflas, Corazón e Inspiración" exhibit. From now until January 14th, museum guests can get a first-hand look at these rolling examples of highly ornate Chicano art and culture.
Presented in the museum's main lobby, the new vehicles include a 1963 Chevrolet Impala Convertible "Slippin' Into Darkness" by Cleto Sanchez, a 1987 Oldsmobile Cutlass "RM Series" by Bobby Garza (Lowrider of the Year 2014), a 1958 Chevrolet Impala "Lemonlaid" by Danny Arriaga, and a 1972 Monte Carlo "Fatal Attraction" by Jose Alvarez.
The new additions complement the existing display, which highlights "Our Family Car," a 1950 Chevrolet Sedan painted by legendary artist Gilbert "Magu" Luján; "El Rey," a 1963 Chevrolet Impala by Albert De Alba Sr.; "El Muertorider," a customized 1968 Chevy Impala by Artemio Rodríguez and John Jota Leaños; and "Gangster Squad '39," a 1939 Chevrolet Master Deluxe by Mister Cartoon.
After opening in July, the lowrider exhibit has been met with outstanding reviews for its in-depth examination of the lowrider as an artistic catalyst and cultural icon in the L.A. community. The exhibit includes a range of works—from installations to lithographs, sculptures to drawings, paintings to photography, as well as vehicles themselves—each melding automotive ingenuity and imaginative expression. Located in the Armand Hammer Foundation Gallery, the exhibit will continue to be on display until July 2018.
"We are thrilled to welcome more lowriders as an expansion of the extremely popular lowrider exhibition," said Executive Director Terry L. Karges. "It's clear that our community truly loves and appreciates these elaborate masterpieces for the purpose they serve as embodiments of fine art and Chicano culture in Los Angeles."
In addition to the above, a 1958 Chevrolet Impala "Final Score" by Chris Roark (Lowrider of the Year 2015, 2016, 2017) and a 1976 Ford LTD by Rudy Sandoval will be on temporary leave to take center stage at the Petersen's L.A. Auto Show booth during the first week of December.
To better accommodate guests, the museum will be extending its hours to 8 p.m. beginning December 22nd to January 7th. To learn more about this special showcase and other exhibits at the Petersen Automotive Museum, please visit www.petersen.org.
---
ABOUT THE PETERSEN
The Petersen Automotive Museum Foundation is a non-profit 501(c)(3) charity. The Museum is located at 6060 Wilshire Boulevard (at Fairfax) in Los Angeles, California, 90036. Admission prices are $16 for general admission adults, $13 for seniors and students with ID, $8 for children ages 3 to 12. Active military with ID, personal care attendants and children under three are admitted free. Museum hours are 10 a.m. to 6 p.m. For general information, call 323-930-CARS or visit www.petersen.org.
---