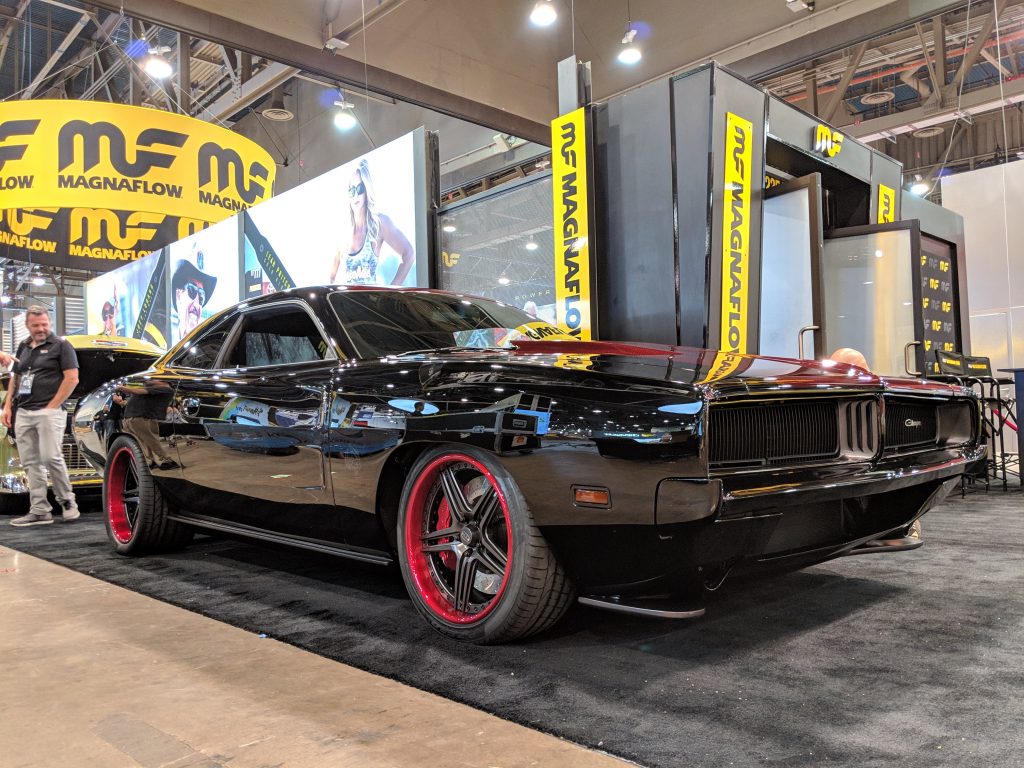 ---
MagnaFlow teamed up with Funk Flex to debut a pro-touring Dodge Hellcat transformed into a '69 Charger using carbon fiber body panels at the 2018 SEMA Show
Oceanside, Calif. – October, 2018 – Magnaflow, the industry leader in catalytic converters and performance exhaust systems, in conjunction with Funk Flex unveiled his custom MagnaFlow-equipped 2018 Dodge Challenger Hellcat which has been blended with carbon fiber body panels from 1969 Dodge Charger at the aftermarket's largest annual trade show, SEMA, in Las Vegas.
On the heels of the 2017 SEMA Show, Funk Flex contacted Valanca Auto Concepts to build a modernized version of his favorite muscle car, a 1969 Dodge Charger. The platform for the build was a late-model Dodge Challenger Hellcat of which, the unibody and safety features would be retained. To begin the build, the Charger Hellcat received several modifications including a 4-inch wider track width, 2-inch shorter roofline, all while lowering the car three inches from where it originally sat. Each body panel was handcrafted to reimagine the classic body lines of the 1969 Charger. The body features a combination of carbon parts from SpeedKore Performance and Common Fibers including a carbon fiber hood, roof, trunk, bumpers and rocker panels.
The vehicle is powered by the modern Hellcat powertrain and backed by a custom MagnaFlow exhaust. With Valanca Auto Concepts at the helm of the exterior transformation, the interior received a refresh courtesy of Gillin Auto Interiors in New York. The wheels are a custom design from Boze Alloys, featuring a 19×8.5 in the front with a 20×11.5 in the rear which sit nicely over a set of Baer Brakes 6 piston brakes all around.
---
ABOUT MAGNAFLOW
MagnaFlow got its start as a natural extension of Car Sound Exhaust systems. Our parent company specializes in superior catalytic converter technology and has spent the last 30 years earning its reputation as a market leader around the world. We're proud to continue this tradition through producing the best sounding, best performing and most durable exhaust components in the world. If you're looking for quality, power and sound, then you're looking for MagnaFlow: www.magnaflow.com Visit us on Facebook, Instagram and Twitter.