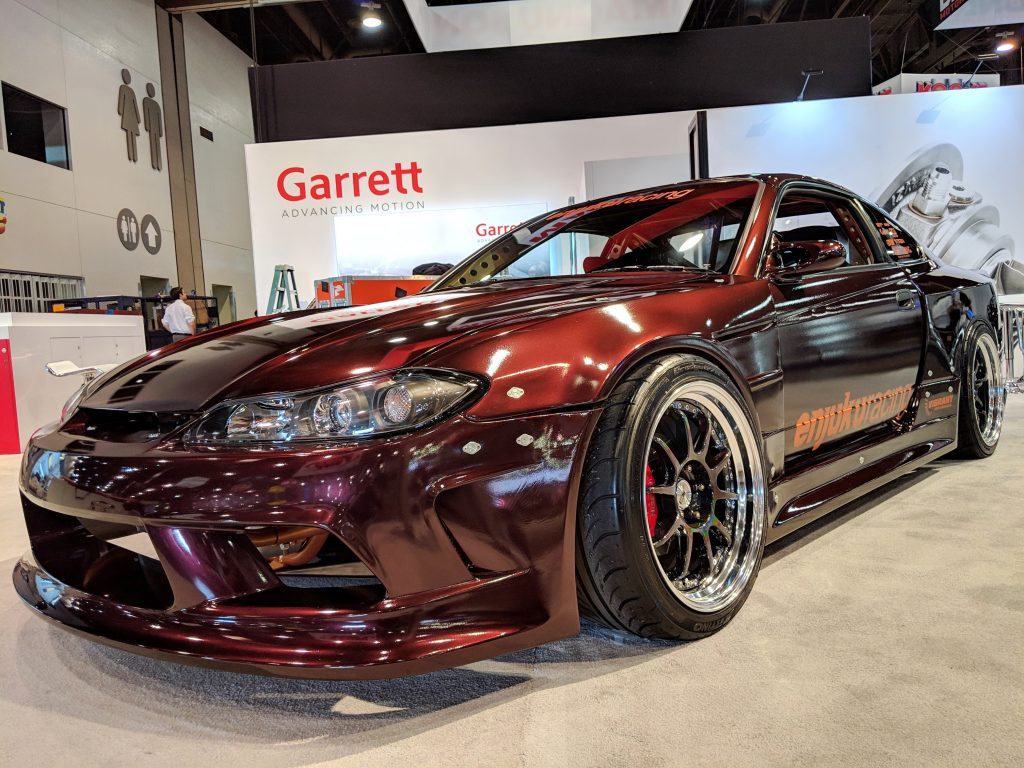 ---
Garrett Advancing Motion teamed up with one of the most prominent automotive YouTube personalities, Adam LZ, to unveil a Formula Drift spec, Garrett-turbocharged S15 at the world's largest automotive trade show
TORRANCE, Calif. – October, 30 2018– Garrett Advancing Motion, a global leader in performance turbochargers, unveiled a Formula Drift Spec '99 Nissan Silvia S15 built by Enjuku Racing for YouTube personality Adam LZ at the aftermarket's biggest annual trade show, SEMA, in Las Vegas.
In the hands of Enjuku Racing, one of the premier tuning shops for S-Chassis performance, the once neglected project car received a complete transformation, resulting in a Formula Drift competition level car. To begin the transformation, the chassis was completely stitch welded and received a fully custom TIG-welded cage along with a tubed front and rear end. Enhancing the exterior esthetic and aerodynamics of the vehicle is a Vertex Edge Wide Body kit giving the car an additional 30mm in width overall. Completing the exterior transformation of the car is a Black Rose wrap.
Adam's S15 is powered by a Toyota 2JZ-GTE stroked to 3.4L utilizing a Brian Crower stroker kit, with a custom Sleeper Designs billet aluminum intake manifold paired with an RMR throttle body, along with a DOCRace Turbo Manifold, connected to a Garrett GTX3584RS turbocharger. The vehicle is outfitted with a custom ER Spec 4" oval exhaust from the turbo back. Pumping E85 to the engine are two Deatschwerks DW300 fuel pumps along with Deatschwerks 1200cc injectors. The engine is managed by an ECUMASTER EMU Black and tuned by RS-Enthalpy in Tampa, Fla and makes 915 horsepower and 835 lb-ft. of torque at the wheels.
Delivering the power of this engine to the tires is a Samsonas 6-Speed sequential transmission, coupled with a Winters Performance quick-change rear end. Keeping the S15 planted to the ground is a set of BC Racing BR Series 2-Way Coilovers, paired with Wisefab Front Lock and Rear Suspension Kits to provide ultimate tunability and steering angle at lock. To complete the overall stance of the car is a set of 18" SSR SP3's with a width of 9.5" in the front and 10.5 in the rear.
"Having an S15 has always been a dream of mine. I was in the midst of swapping a 2JZ into my S13 when a shell popped up and presented the perfect opportunity to start from scratch with a new platform built to a higher standard. It wound up in the hands of Enjuku Racing and they have helped me create not only a carefully designed competitive drift car, but also a work of art," said Adam. "Style is very important to me and I think we've achieved the perfect balance of form and function with this car. Garrett has been helping me blow people's minds with absurd power numbers on small displacement engines and I'm honored to have them on board with this project too. I could not be more excited to unveil the car at the Garrett booth!"
To see Adam's 2JZ-powered S15 in action, visit his YouTube channel at www.youtube.com/LZBMX. To learn more about the Garrett Advancing Motion and its line of products, please visit www.garrettmotion.com.
---
ABOUT GARRETT ADVANCING MOTION
Garrett (www.garrettmotion.com) is a differentiated technology leader, serving customers worldwide for more than 65 years. Garrett's cutting-edge technology enables vehicles to become safer, and more connected, efficient and environmentally friendly. Our portfolio of turbocharging, electric boosting and automotive software solutions empowers the transportation industry to redefine and further advance motion. For more news and information on Garrett, please visit www.garrettmotion.com/news.