Influencer marketing has gone mainstream. Everything from the biggest brands to the smallest businesses are leveraging the power of influencers on social media to attract customers. With 75% of Fortune 500 companies using influencer marketing to reach new audiences and engage with existing customers, you can't afford to not use influencers to help promote your brand and drive sales.
In previous articles, we've shown you why influencer marketing is more important than ever and provided recommendations on how to make influencer marketing work for you. To get the most out of influencer marketing, whether you're on the brand side or the influencer side, you need to know what it takes to be a successful influencer on social media.
In this installment of KM 101, where we provide easy-to-understand information and guidelines for businesses that want to pivot to a "digital-first" model or enhance their online marketing efforts, we provide a playbook for becoming a social media influencer. By knowing what it takes, you can better evaluate influencers your brand may partner with, or you can step up your game to take your social media channel(s) to the next level.
---
New to KM 101? Read our previous installments:
---
How to Win Friends and Influence People
Influencer marketing has grown in popularity because it works and, if done correctly, offers great ROI. Brands now compete to work with the best influencers, and because being an influencer can be lucrative, the number of up-and-coming influencers is growing rapidly.
Even though Dale Carnegie's best-selling self-help book How to Win Friends and Influence People was written in 1936—more than six decades before the first social media site, SixDegrees, was launched in 1997—its recommendations still ring true today and provide insight into why influencer marketing is so effective.
Carnegie told readers to "Arouse in the other person an eager want," to "Talk in terms of the other person's interest" and to "Make the other person feel important—and do it sincerely." These are the basic building blocks of being an influencer—generating strong interest and aspiration; addressing people's needs, wants and desires; and establishing a genuine connection with followers. Do all of these things and do them well, and people will follow you anywhere.
But, like most things in life that are valuable and worth doing, it's easier said than done. The best influencers follow the guidelines below, so use them to vet influencers your brand works with or to become an influencer yourself. 
---
6 Tips to Become an Influencer on Social Media
1. Establish Your Niche
People have different preferences for music, food, media, lifestyle, news, hobbies and so on. You can't be all things to all people, so the first step to becoming a successful influencer on social media is to establish your niche. Influencers are expected to have a high level of knowledge and credibility in a certain space or segment, whether it's Jeeps, Swedish heavy metal or pop culture.
You can't fake being an expert or being passionate about something. Identify your areas of expertise or what you love, do research on what influencers already cover these areas and look for a unique niche or angle that you can exploit.
You and your audience must speak the same language. You must share the same concerns and have the same desires. But as an influencer, you need to offer something your audience doesn't have. That can be insider access, skills at creating compelling content, an ability to express yourself in a vivid, honest way or simply being charismatic.
When people visit your page, they want to know what to expect. People are creatures of habit, and social media is designed to show them more of what they want to see. Showing them the content they want, in whatever niche you occupy, is an important ingredient for long-term success as an influencer. 
Example: GEARYS Beverly Hills
Legendary homeware boutique and jewelry retailer GEARYS Beverly Hills knows that details matter when it comes to the look and feel of luxury. Its Instagram feed isn't a random selection of photos. It's a thoughtfully curated collection of lifestyle and studio images that showcase products in a classy and tasteful manner. GEARYS Beverly Hills uses a consistent color palette, bright and attractive images, and concise, well-written captions. 
---
2. Optimize Your Social Media Profile
Social media isn't static. Because there are multiple platforms competing for consumers' attention, new features and tools are tested, rolled out and updated regularly. And different platforms have different features and tools, each with their advantages and disadvantages. To become a social media influencer, you need to choose the right platform (or platforms) and you need to become an expert on how the platform works and how to exploit its best features. 
If the type of content you create is long-form videos, such as product reviews, vlogs or reactions, then YouTube is the ideal platform. If your focus is mainly photography and the occasional short video, then Instagram is where you should be. Once you select a platform, you need to fill out the bio and other descriptive information, create distinctive logos or graphics, optimize the settings and learn how to use the tools and features. 
Example: Alec Steele
Alec Steele is a blacksmith who has been an influencer for years. He launched his YouTube channel back in 2011 and has grown his audience to more than 2M subscribers. Steele has been in the game long enough to know what his viewers want and how to deliver it to them. Recently he expanded his reach by building an Instagram channel with a different style of content, and it now has 318K followers. 
---
3. Know Your Target Audience
Before you start blasting out content, it's important to know your target audience. A loyal audience is what gives an influencer credibility. Brands reward influencers who know how to turn their followers into a community because they have a closer connection with and earned more trust from their audience. Partnering with these sorts of influencers typically offers a brand a higher return on investment. 
Yes, as an up-and-coming influencer you know what niche you want to be in and you know how to speak the language, but even within a specific community there are differences between people. What are the demographics of your target audience? What is their age range, gender ratio, geographic distribution and other characteristics and interests? Knowing these attributes will help you deliver content that better meets your audience's needs, and it will make you a better partner with brands that want access to your followers.
If you want your followers to become a community, then you must value your relationship with them. You can't view them as just a random group of people who can be exploited for financial gain. Today's social media users smell a lack of sincerity a mile away. Getting to know your audience and making genuine connections with them is absolutely essential to becoming an influencer, not just a wannabe. 
---
4. Create Relevant, Valuable Content
High-quality, engaging content brings new followers to your social media channels. Slick or stylish content might catch someone's eye, but only by creating content that is truly relevant and valuable to people will you be able to build a loyal audience. Your content must stand out from all of the distractions and noise on the internet, and it must make people stop and say "I'd like to see more of that" and hit the Subscribe or Follow button.
When it comes to creating compelling content, there are three rules to live by: 1) know your audience, 2) know their triggers and 3) know their aversions. You can dig deeper into ways to create engaging content by reading our article KM 101: Creating Compelling Social Media Content (and Avoiding Common Problems).
Example: Linus Tech Tips
Linus Tech Tips is one of the largest tech channels on YouTube (11.3M subscribers) and Instagram (1M subscribers), hosting a variety of DIY and how-to vlogs. In the description on YouTube, LTT says, "Tech can be complicated; we try to make it easy. Linus Tech Tips is a passionate team of 'professionally curious' experts in consumer technology and video production which aims to inform and educate people of all ages through entertaining videos." The team's content brings value to their audience, giving them the information they need to build, buy and make decisions about gadgets and technology. Delivering relevant, valuable content on a consistent basis (tip #5) and establishing trust with the audience is exactly what brands look for when partnering with influencers. 
---
5. Post Content on a Consistent Basis
You've established your niche, you've optimized your social media profile, you know your target audience and you know how to create relevant, valuable content. Now you need to post that content on a consistent basis. For example, Linus Tech Tips has a schedule posted in its YouTube description:
New videos every Saturday to Thursday @ 12:00pm Pacific
Live WAN Show podcasts every Friday @ 5:00pm Pacific
LTT's 11.3M subscribers know what to expect and when they can expect to see new content. Posting frequency is important because social media algorithm's give more weight to channels that post engaging content regularly. 
A good rule of thumb is to post at least once a day, five days a week, but your content posting tempo ultimately depends on your goals and your target audience. For example, a platform like Twitter is very dynamic and interactive, and it rewards a high frequency of posts. But you shouldn't sacrifice the quality of your posts just to post more often. The look and feel of your content is critical; if it becomes uneven, your engagement will suffer. To optimize your posting schedule, dig into the platform's analytics. 
Example: Philip DeFranco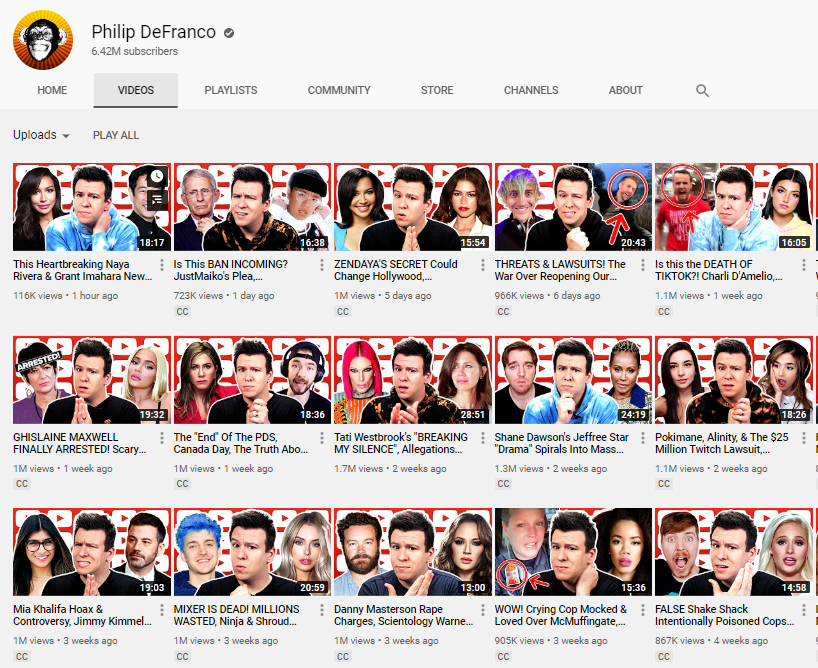 Popular pop culture and news commentator Philip DeFranco has built an impressive following on YouTube, with 6.4M subscribers. He creates and delivers timely content his viewers love, and he does it every day, five days a week. When his subscribers want to know about the latest rumor, celebrity scandal or other viral topic, they know they'll get the inside scoop on a daily basis with entertaining, easy-to-watch videos that are usually 10-20 minutes long. 
---
6. Above All, Be Authentic
We saved the best and most important tip for last. If you want to become an influencer on social media, you must be authentic. You can follow the first five tips to the letter, but if you come off as phony or as someone who's trying too hard or as a shill for a brand or a cause, then you're just wasting your time. Authenticity isn't about following the rules or staying in your lane or being too buttoned down. In fact, some of the most influential influencers are rebellious or over the top, but regardless of how they behave, they are true to who they are.
We've all heard the saying "fake it till you make it," and in the beginning it may take some trial and error until you find your true voice or persona, but you must follow your gut and be yourself. That means honesty, transparency and a willingness to own up to mistakes. Authenticity is important because that's how you establish trust with your audience. Without trust, followers won't share your channel with others, they won't listen to what you have to say and they won't buy products or services you recommend.
Example: Joe Rogan Experience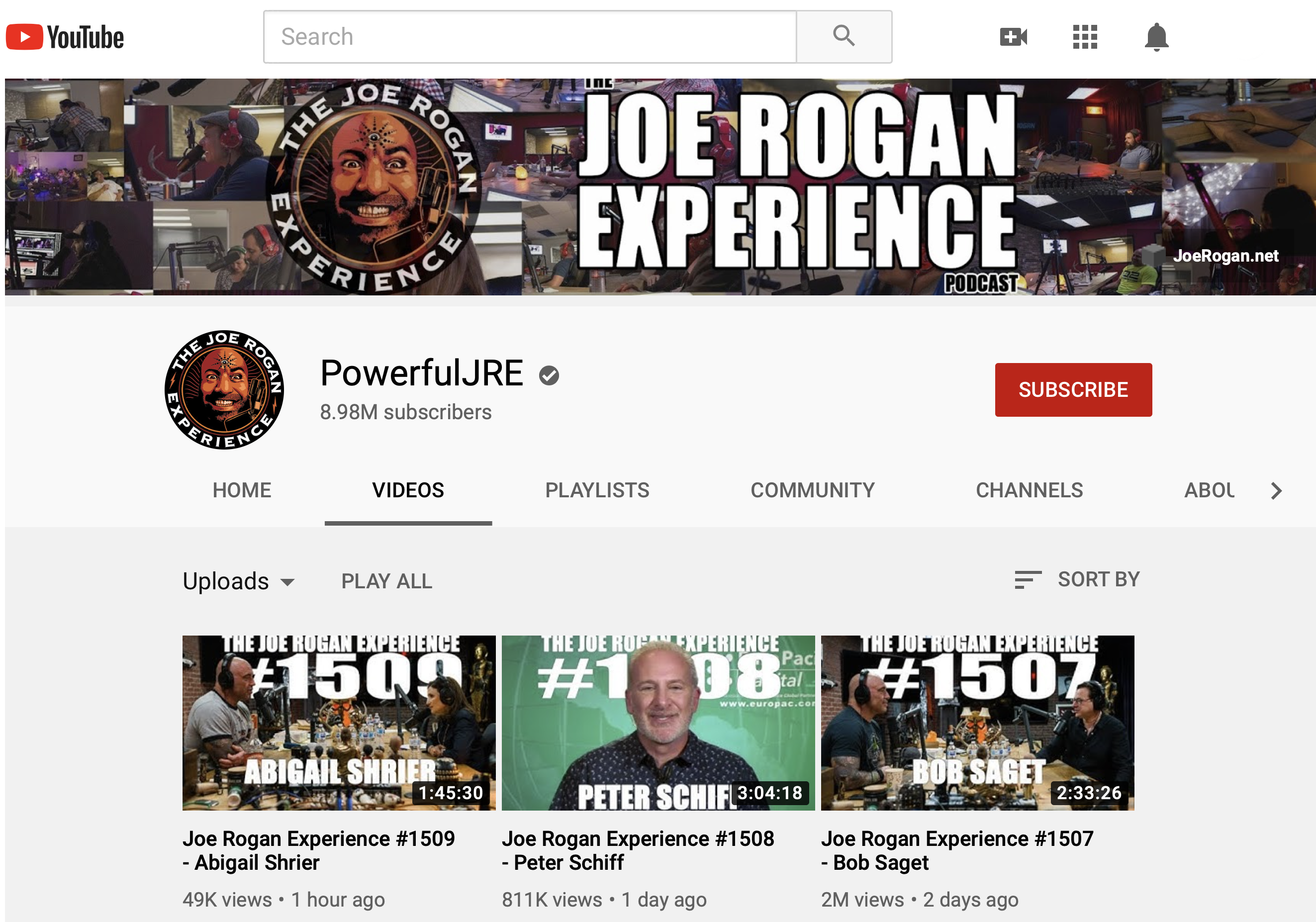 Few people are as authentic as Joe Rogan. He's a stand-up comedian, a color commentator for MMA fights and a host of one of the most successful podcasts of all time, the Joe Rogan Experience—a recent licensing deal with Spotify was worth $100 million. Rogan is opinionated, he's funny, he's often crass or profane, and he likes to drink whiskey and smoke cigars or marijuana on his show, which is live streamed on his YouTube channel (9M subscribers). The secret to Rogan's success is that—agree with him or not—what you see is what you get: 100% pure Joe Rogan. He doesn't try to be someone else.
---
Next Steps
Kahn Media works with some of the top influencers in the automotive and lifestyle segments. We also manage social media for dozens of high-profile clients and our in-house social media network reaches more than one million followers. Whether you want to become an influencer, work with an influencer or partner with our clients, we can help. Send an email to Help@KahnMedia.com to schedule a free consultation.