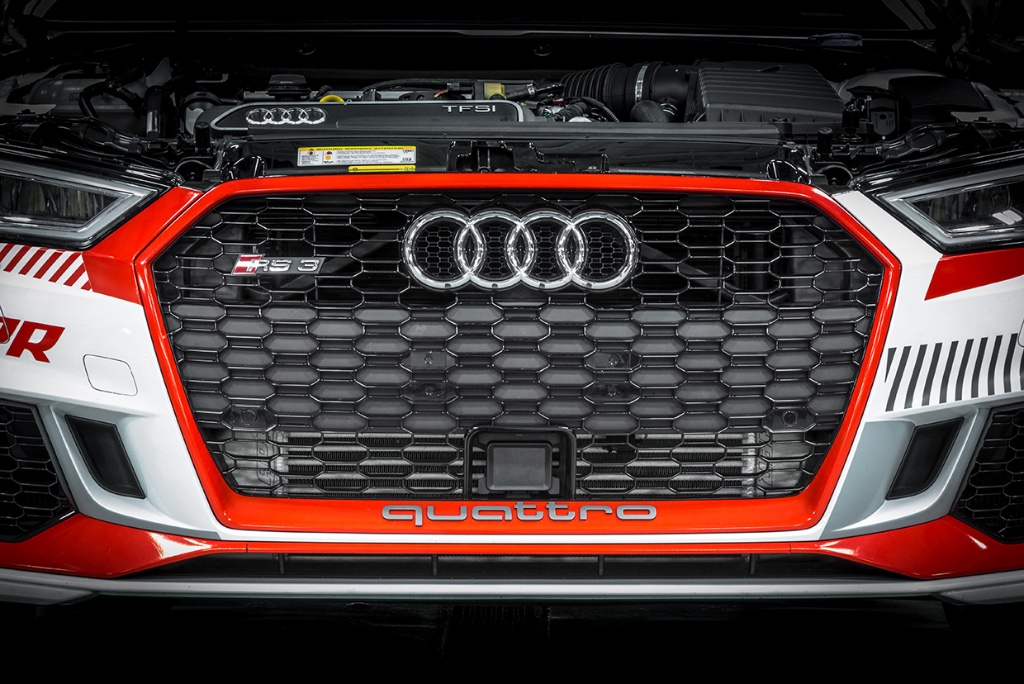 ---
The APR Intercooler System is a larger front mounted upgrade that dramatically reduces intake air temperature (IAT), minimizes heat soak and provides increased performance for the 2015-2018 Audi RS3
Opelika, Ala. (July, 2018) – APR has announced the release of its APR Front Mount Intercooler System for the 2015-2018 Audi RS3. The bolt-on design provides drastically improved cooling for the RS3, increasing performance while combating detrimental heat soak. The APR Front Mount Intercooler Systems provides 26 additional horsepower over the stock setup and can handle twice the total power output.
APR's engineering team performed extensive research while designing the intercooler for the RS3. The cast aluminum end tanks are organically shaped to provide maximum airflow across the core. These end tanks are further CNC'ed to provide a slip-resistant mounting surface for hoses, ensuring consistent boost performance. Combining these end tanks with a larger overall design provides a 76% increase in overall intercooler volume.
The APR Intercooler core is a large bar-and-plate design featuring densely packed staggered and louvered fins. This design offers exceptional cooling while balancing pressure loss across the core and maintaining critical airflow to the components behind the intercooler system. The core size was appropriately matched to the platform, minimizing pressure drop while leaving adequate space for the end tanks.
Extensive dyno testing was performed during the development process as well. When performing six-consecutive fourth gear dyno runs, the stock intercooler reached intake air temperatures of up to 70 degrees Celsius. In comparison, the APR system reached a maximum IAT of 54 degrees Celsius. The APR system recorded a lower IAT after six dyno runs than the stock system after its first run. While performing a 15 second dyno run through multiple gears, the APR system decreased IAT by 23 degrees Celsius. By dramatically reducing intake air temperatures, the APR Front Mount Intercooler System increases horsepower in a variety of conditions.
For more information, including finding the nearest APR dealer to you, please visit www.goapr.com.
---
About APR
Founded in 1997, APR is the global leader in performance aftermarket products for Volkswagen, Audi, Seat, Skoda, Porsche, and other vehicles. APR develops and manufactures hardware, software, calibration & data-logging tools for engine and transmission controllers, including intakes, exhaust systems, intercoolers, turbocharger systems, suspension, brake systems, wheels, and more. APR delivers software via a 24-hour automated global delivery system from its 78,000 square foot state of the art facility in Opelika, Alabama. Learn More at www.goapr.com.
---